If you're in closet clean out mode, the tips below will help you determine what items should be donated once and for all
The holiday season usually means a few things: gathering with friends and family, shopping for everyone one your list, and possibly even cleaning out your closet for the upcoming new year. Even the most reasonable person can have trouble determining what to toss or keep. We all have those clothes we haven't worn in forever, but we just can't seem to get rid of them. I know I've been guilty of that quite a few times.
Below are a few tips to help you determine if it's time to donate your clothes. The great news: the process is painless and doesn't take a lot of time. And the even better news? You can donate your clothes and accessories to your local Goodwill®. Besides helping someone else update their wardrobe on a budget, last year Goodwill diverted almost 4 billion pounds of clothes and textiles from landfills, so you'll also be helping the environment.
You Haven't Worn It in More than Six Months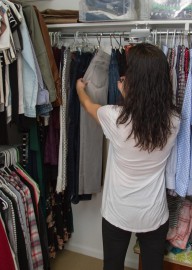 Image via: https://allthingsamber.com/2018/02/20/declutter-series-my-closet/
If you're leafing through your closet and say to yourself, "I totally forgot I had this!," that probably means it's time to toss the item. As a general rule, if you haven't worn your clothes in six months or a year, then it's time to let it go. When you generally forget your clothes, that means you may not love, want, or need them as much as you think you do. Or maybe they just don't fit your new style. Either way, donate them to your local Goodwill so they can be a fashionable and affordable find for someone else.
It No Longer Fits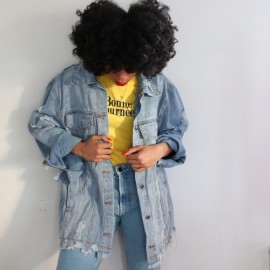 Image via: https://poshmark.com/closet/thenotoriouskia
This sounds like a no-brainer, but you'd be amazed at how many people keep clothes that just don't fit. No judgement at all, because I've done the same thing! However, if you find yourself pulling and tugging at a dress when you're wearing it or a shirt doesn't fit you comfortably, it's totally okay to add it to the donate pile. Clothes should look and feel absolutely amazing on you and if not? No shame in removing them from your closet.
You Don't Have Anything to Wear It With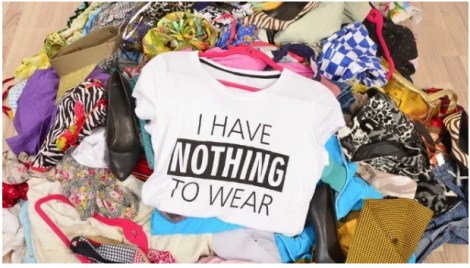 Image via: https://collegecandy.com/2016/01/22/closet-clean-out-rules-guide-clothes-to-throw-away-how-to/
What if the garment fits and you like it, but you've never actually worn it because you don't know how to style it? That's yet another red flag that it's time to say bye bye. It's so important that before adding any new items to your closet, you have an idea of how you'll style them. If you're still puzzled about styling options for a tricky garment or trend, you've got yet another item to add to the donation pile. The great thing about packing up your clothes for Goodwill is that as you're dropping off the pieces you no longer need, you can browse the racks for clothes you'll love.
You Have a New Lifestyle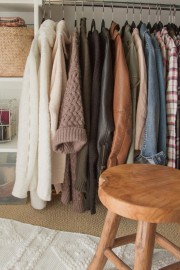 Image via: https://allthingsamber.com/2018/02/20/declutter-series-my-closet/
A change in location or a job promotion can mean a major overhaul for your threads. If you're going from a colder climate to warm weather, it's safe to donate your heavier coats. Or if your new job requires a bit more professional gear, you can ditch a few of the casual pieces you wore to work in the past. Your closet should always be a reflection of your current, true self.
You Don't Plan to Repair It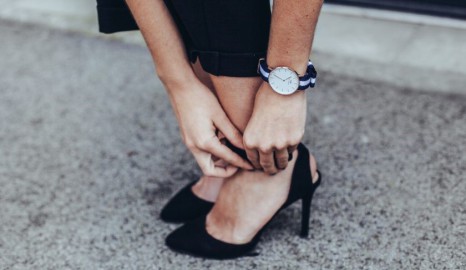 Image via: https://www.hermoney.com/enjoy/fashion/quick-fixes-fashion-emergencies/
When an item is damaged beyond repair, it's understandable to throw it away or use the scraps for a DIY project. But if something just needs a minor fix like a button replaced, shortened hem, or fixing a heel cap, that's no big deal, right? However, if you haven't made the repair in months, just say adios. That simple repair you never made might be a project someone else would happily take on.