Athleisure has been infiltrating the fashion market and is expected to do so through the new year. As people make their new year's resolutions, some of them may be to make 2019 a healthier year, with more time spent focusing on strengthening their muscles and minds. Athleisure – a mix between loungewear and workout clothes – can help people reach their health goals. After all getting dressed for the gym is half the battle. In addition to being cute weekend wear, athleisure attire can also serve as reminders to take an hour or so out of the day to focus on becoming healthy and strong.
I was browsing the racks at a department store the other day and found myself at eye-level with the sweatshirt of my dreams. It was a gorgeous soft shade of Glossier-esq millennial pink that all brands seem to be coveting lately, and had sleeves that puffed out just enough to show that it was a fancy sweatshirt that you could almost get away with wearing to work instead of the gym. The inside was incredibly soft and insulated. I wanted it and knew I'd probably live in it, so I checked the price, to find it was whopping $70 for an elevated version of a sweatshirt that would be worn more as a sweater. I passed on it, lamenting full priced fast fashion retail prices and also realizing that I could purchase an entire wardrobe for that price at my favorite Goodwill® store in the city.
January is a fantastic time to pop into your local Goodwill store and checkout all of the new donations that have come in. People clean out their closets for the new year, making room for new items and donating some brand new or well loved clothes to an organization that is dedicated to helping families thrive, by providing job training and assistance programs. When I went into my favorite Goodwill store right after the holidays, I found an incredible amount of designer items with tags still attached – think full-priced pants, dresses and sweaters that are originally $440 being sold at Goodwill for under $20. My biggest steal? A Missoni sweater tank top that would normally be a couple hundred dollars, that I scored for just $8.
I've seen some amazing athleisure deals as well. Pair a fun and warm sweatshirt with a fun pair of patterned leggings for a weekend look that will encourage you to be on-the-go.
Check out some of my favorite looks from the athleisure trend below:
Photo: @just.my.kloset
1. Sporty Stripes
Stripes are all the rage in athleisure wear – weather you have stripes down your pants or down your sleeves, the trend can add an additional pop of color to your outfit or flaunt some awesome brand logos.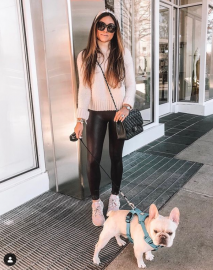 Photo: @campbellhuntpuckett
2. Pleather Leggings
Paired with an oversized sweatshirt or chunky sweater, these pleather leggings are perfect to wear to brunch or to work during the week.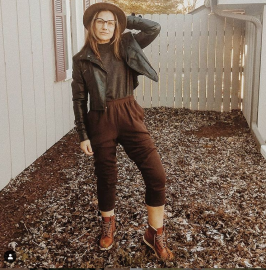 Photo: @nephotog
3.Cropped Sweats
These vintage brown wool cropped pants were an awesome thrift store find. Pair cropped sweats with cute booties and a leather jacket to dress it up for any occasion, while still staying comfortable.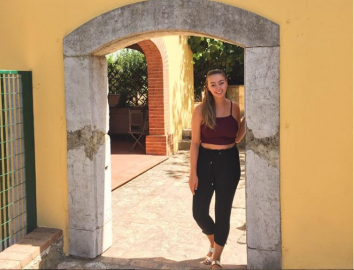 Photo: @felicia.czo
4.Strappy Crop Top
Whether you're heading to the yoga mat or the beach, a combination cropped outfit can be the perfect look. Pair a colorful crop top with a pair of your comfiest leggings so you can be on-the-go running errands and on the treadmill – just don't forget to pack a sports bra in your bag!