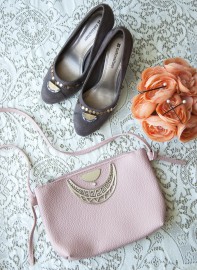 What's on your calendar this spring and summer? Prom? Your own wedding? Someone else's? As the weather warms up, it seems that almost everyone has one formal event or another that they're preparing for. Between buying the perfect attire, scheduling a hairstylist, or paying for travel, special celebrations can get expensive! That's one reason why I love shopping at Goodwill for the bits and pieces I need. The fact that the money I spend at Goodwill helps expand services that create stability in my community is another reason! Whenever I browse the aisles, I try to think of ways I could update the looks I need to be a little more "me." Today, I'll do that by using thrifted jewelry to add a unique touch to my formal wear. And you can do the same! Read on for a little inspiration…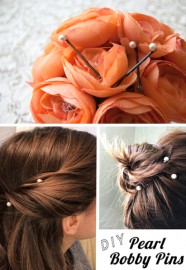 To accent your hairstyle, add thrifted pearls to bobby pins or attach a vintage brooch to a plain barrette. The lesson that really sunk in once I completed this project is that I am definitely not a hairstylist. If these pearl bobby pins look this charming when I quickly throw my hair back, imagine what a real professional could do with them!
Gorgeous, tumbling mermaid waves could be studded with these for a whimsical ocean theme or they could tame fly-aways in an intricate braid. All you have to do is snip apart a thrifted faux-pearl necklace, dab each pearl onto the bobby pin with a little hot glue, then stitch them into place for extra security by looping thread through the pearl and then the middle of the bobby pin. Tie it off, position the knot inside the pearl, then trim the excess thread.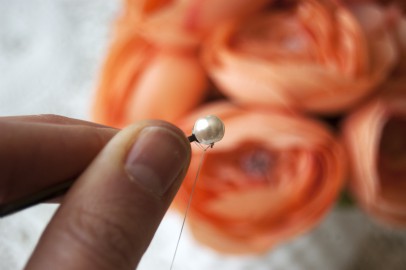 I've seen similar bobby pins sell at more than $20 for a set of ten. But my way, I could make enough to decorate an entire wedding party for less than $10. Knowing how easy it is to craft custom hair accessories from Goodwill jewelry, I'll also be keeping my eye under the counter for vintage brooches that would fit atop a plain barrette.
Decorate a simple clutch with jewelry. On my last trip to my local Goodwill, I spotted two silver necklaces that I knew could work together to dress up a simple thrifted bag. Their similar shape was calling to me as the perfect way to craft my own clutch…then I saw this $4 pink shoulder bag and it stole my heart. I knew they all belonged together!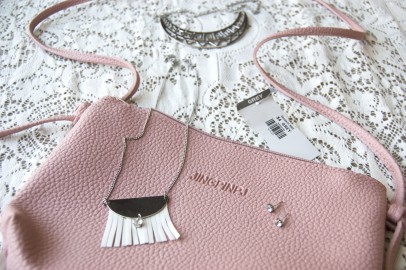 First, I used some needle-nose pliers to separate the necklace chains from the pendants. Then just a few minutes later I had stitched them in place on the bag using the holes from where the chains had been to secure them.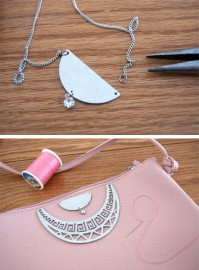 Want to try it yourself? Look for diamonds, pearls, fringe, or feathers in the jewelry display for a fully customized accessory.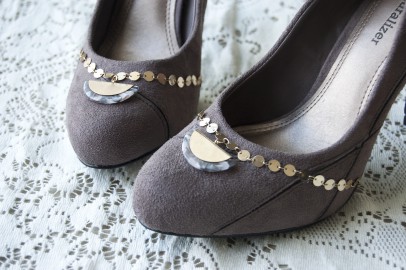 Style your prom pumps with thrifted gems to add a little sparkle to your step. Thinking of sporting a short dress? You really have an opportunity to show off those shoes! Since you'll want the two shoes to match, look for earrings (or anything that comes in a set of two) and longer necklaces that give you more material to work with.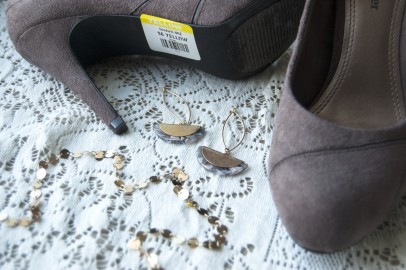 I found a set of earrings that perfectly matched the hue of my $6 Goodwill shoes. Again using my needle-nose pliers, I separated the pendant parts and trimmed down the necklace into two lengths that were just the right size to stretch across the toe from one side of the sole to the other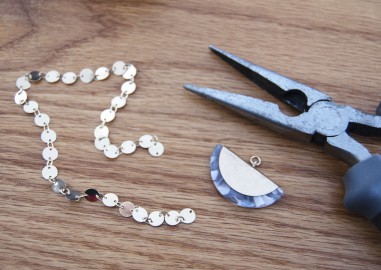 After closing the jump ring of the earring pendants onto the center ring of the necklace chain, I used tiny dabs of hot glue to secure the jewelry in place. I did a little research online to see what type of glue others have used to add embellishment to shoes, and it seems like crafters have found success with everything from fabric glue to E6000 industrial adhesive depending on the shoe's material and what they're adding. So far mine are working out just fine! Here's a little before and after: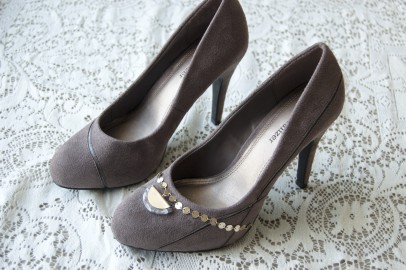 How would you add jewelry to your formal look? I love how easy it is to think outside-the-box when you're working with Goodwill materials. Since thrifted items have already lived a life once before, I don't stress about making a mistake or not liking the finished product. If something doesn't turn out the way I wanted it to, that's okay! It's not like I've ruined something that was bought brand-new. This kind of freedom takes the pressure off and lets me really unleash my creativity. And what better way to make a special event even more memorable than making a grand entrance in your own customized looks?