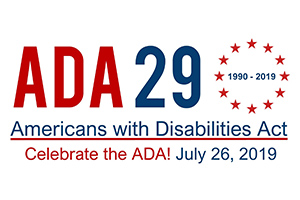 By Laura Walling, GII senior director of government affairs, advocacy & legislative affairs
This week marks the 29th anniversary of the signing of the Americans with Disabilities Act (ADA) which prohibits discrimination against people with disabilities in employment, education and public accommodations.
Goodwill® has been dedicated to supporting employment opportunities for people with disabilities, among others, since its founding in 1902. Our collective aspirations for people with significant disabilities include: opportunities for choice, to earn wages, to reach potential, to experience improved quality of life, and to achieve social acceptance and integration. Services are customized for the individual, including his or her support system. Services also leverage community resources and are delivered while recognizing that the individual is both the leader of his or her service plan and a customer of Goodwill.
In 2018, more than 310,000 people who self-identified as having disabilities engaged in career services from local Goodwill organizations. Goodwill's commitment to supporting the aspirations of people with disabilities are grounded in choice and the ability to earn wages. Goodwill aspires for all individuals, including people with disabilities, to reach their full potential and enhance their quality of life. Robert Frank, Goodwill Industries International's Achiever of the Year is one of those individuals. Robert suffered physical abuse as a child, including blows to the head that left him with a cognitive disability. With support from Goodwill, he learned to read and write. At age 65, he read a book for the first time, giving him new confidence and a more positive outlook on life.
Goodwill believes everyone should have the opportunity to live independently, earn wages and achieve their dreams. Despite the great advances that have been made since the passage of the ADA, particularly in public policy and technology, more can be done to eliminate barriers faced by people with disabilities, especially those with significant disabilities. While disability employment rates are improving as an increasing number of people with disabilities are on the job, struggles still exist when compared to the workforce as a whole. Nearly 80% of people with disabilities are not a part of the labor force. Furthermore, the unemployment rate for people with disabilities is nearly double than those without a disability.
As disability advocates and service providers take this time to reflect on the past and celebrate this milestone in our country's history, let us not forget the future. How can we continue to challenge ourselves to be innovative, more inclusive, and change policies that can help improve the lives of people with disabilities and their families for the next 29 years and beyond?